Chandigarh, the modern city designed by the legendary architect Le Corbusier, is not just about its planned architecture and orderly grid system. Nestled amidst the urban splendor of this city is a true marvel of creativity and artistry – the Rock Garden. This enchanting sanctuary, situated in Sector 1 of Chandigarh, is a unique blend of natural beauty and human ingenuity, making it a must-visit destination for tourists and nature enthusiasts alike.
Unraveling the Story of Rock Garden
A Vision Transformed into Reality
The Rock Garden, also known as Nek Chand's Rock Garden, is a testament to the vision and determination of its creator, Nek Chand Saini. In the 1950s, Nek Chand, a government official, began collecting industrial and home waste materials, such as broken glass, bangles, tiles, and ceramic pots, from demolition sites around the city. With immense creativity and dedication, he transformed this waste into magnificent sculptures and structures, giving birth to the Rock Garden in 1976.
A Whimsical Wonderland
As you step into the Rock Garden, you are greeted by a whimsical world crafted from industrial & home waste, discarded materials, and natural elements. The garden is divided into different sections, each offering a unique experience. From artistic sculptures and cascading waterfalls to meandering pathways and lush greenery, every corner of the Rock Garden exudes a sense of wonder and charm.
The Beauty Within the Rocks
Intricate Sculptures and Artistic Marvels
One of the most remarkable features of the Rock Garden is its intricate sculptures, all crafted meticulously by hand. From life-sized figures of dancers and musicians to animals, birds, and mythological characters, the garden is a treasure trove of artistic marvels. Every sculpture tells a story, depicting the rich cultural heritage of India and showcasing the creativity of its maker.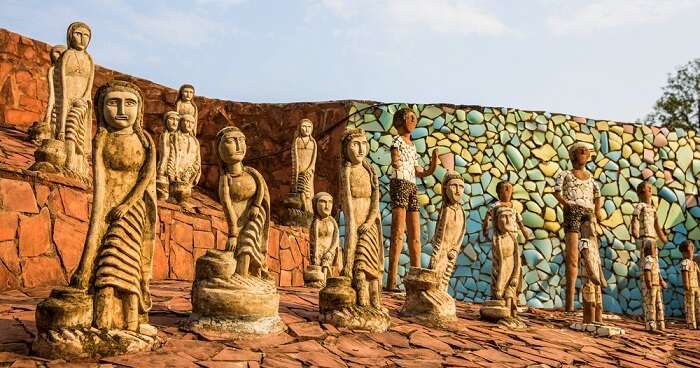 A Harmony of Nature and Creativity
What sets the Rock Garden apart is its seamless integration with nature. The sculptures are nestled amidst natural rock formations, blooming flowers, and shady trees, creating a harmonious blend of creativity and nature's beauty. Visitors can leisurely stroll along the garden's pathways, enjoying the serene ambiance and appreciating the artistic brilliance that surrounds them.
Beyond the Rocks: Cultural Performances and Art Exhibitions
A Hub of Cultural Activities
The Rock Garden is not just a static display of sculptures; it is a vibrant hub of cultural activities. Throughout the year, the garden hosts various events, including music concerts, dance performances, and art exhibitions. These events add a dynamic touch to the garden, making it a lively space where creativity knows no bounds.
Preserving Traditional Arts and Crafts
In addition to cultural events, the Rock Garden also plays a vital role in preserving and promoting traditional arts and crafts. Local artisans often showcase their handmade crafts, providing visitors with the opportunity to appreciate and purchase authentic Indian artwork, thus supporting the local community.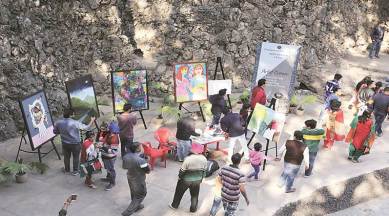 MAJOR ATTRACTIONS
PHASE 1:- Toilet fixtures, broken glass pieces and broken tiles have been used to create figures of humans and animals
PHASE 2:- Once you enter you will feel entering a small traditional Indian village representing beautifully carved huts, temples pathways etc.
PHASE 3:- It's inspired by Roman architecture; swings are hanging for people to enjoy the beauty.
Waterfall, Aquariums where we can get glimpse of fishes wandering around.
Open Air Theatre:- An open seating ground with stairs.
Laughing Mirror Display; Camel and Train ride.
Must visit to Dolls museum.
Souvenir Shop.
Food Court
for more information click here: superchandigarh.com
Listing Amenities
Car Parking

Outdoor Seating

Security Cameras
Sector 1, Chandigarh, 160001, India
Contact Business